The side of the tire is called a sidewall and the information contained here tells you everything you will need to know in making the right decision when replacing the tires on your passenger car or light truck.
PASSENGER CAR TIRE SIZE P-METRIC AND EUROPEAN METRIC

P-Metric P205/70R15 95S
European Metric (No P) 215/45R17 91V
215 – Section Width in millimeters
45 – Aspect Ratio
R – Designates the tire has radial construction
17 – Wheel Diameter
91 – Load Index
V – Speed Rating
LIGHT TRUCK TIRE DESIGNATION 

Flotation 33X12.50R17LT
33 – Overall Diameter of the tire in inches
12.50 – Tires Cross Section Width in inches
R – Designates the tire has radial construction
17 – Wheel Diameter
LT – Light Truck Tire
140Q – Load & Speed Rating

LT-Metric LT285/70R17 121/118S Load Range E
285 – Section Width in millimeters
70 – Aspect Ratio
R – Designates the tire has radial construction
17 – Wheel Diameter
121/118 – Load Index
S – Speed Rating
Letters C, D, E, and F designates the load rating of the given tire.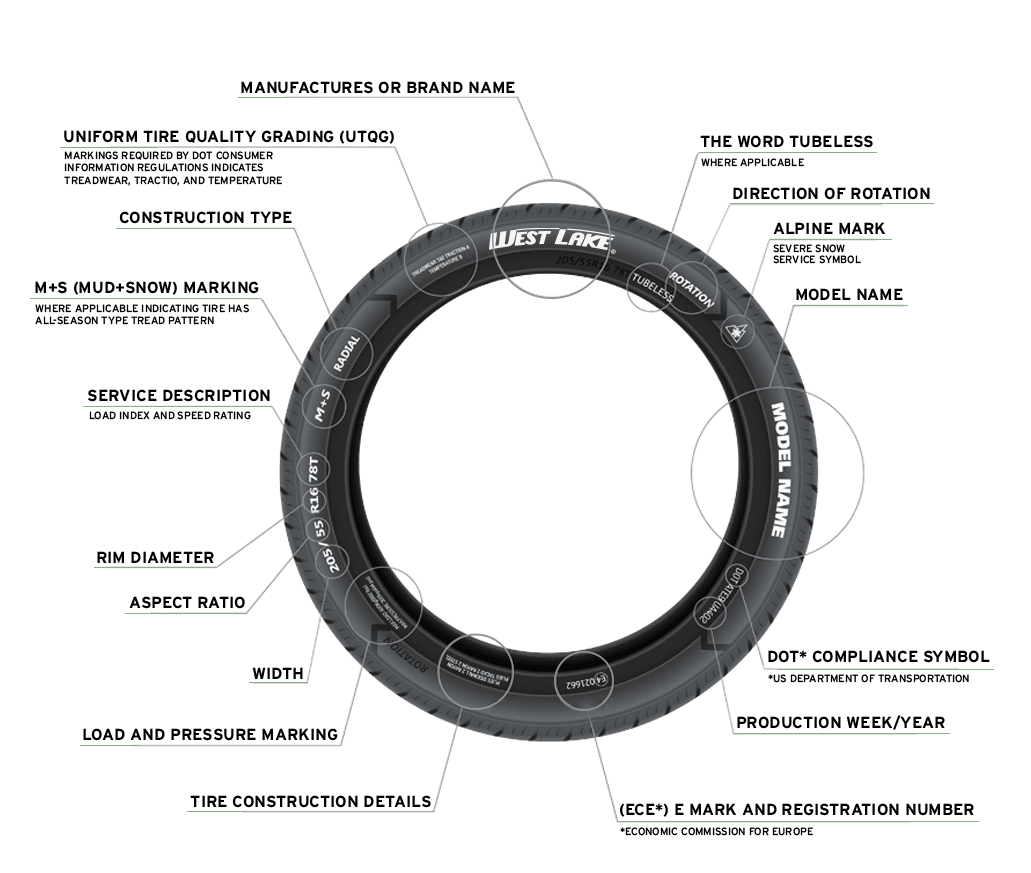 SECTION WIDTH
Measured in millimeters, this three-digit number is the width of the tire from edge to edge of the sidewall. The greater the number is, the wider the tire is.
ASPECT RATIO
The aspect ratio, also referred to as series or profile, is the ratio of the section height to the section width. Aspect Ratios usually range from 30 to 80. The lower the number, the shorter the sidewall is relative to the section width.
RADIAL
The letter R in the size description designates the tire as a radial. It also must have the word "radial" on the sidewall.
RIM DIAMETER
The diameter of the wheel or rim in inches.
SERVICE DESCRIPTION
The service description includes the load index number and speed symbol letter.
PLIES AND FABRIC
The ply and fabric information indicates the number of plies and the cord material in the tire tread and sidewall.
M+S
Tires marked with the M+S symbol mean that the tire meets the standards for limited mud and snow use.
MOUNTAIN SNOWFLAKE SYMBOL
The Mountain and Snowflake symbol indicates the tire meets the requirements for traction in severe snow conditions.
ROTATION
Some tires will have an arrow designating the rotation of the tire when the vehicle is moving forward. Always mount these tires in the correct direction of rotation as the tread pattern is designed to perform when driven in the specified direction.
DOT TIRE IDENTIFICATION NUMBER
The US Department of Transportation has established safety performance standards tire manufacturers must follow. The "DOT" symbol certifies the tire manufacturer is following these standards. Next to the DOT is the Tire Identification Number (TIN). The TIN contains the tire plant code, and the last 4 digits are the week and year the tire was manufactured.
MAX LOAD kg(lbs.) AT MAX PRESSURE kPa(psi)
These markings indicate the maximum load and maximum cold tire air pressure in both metric and standard units.